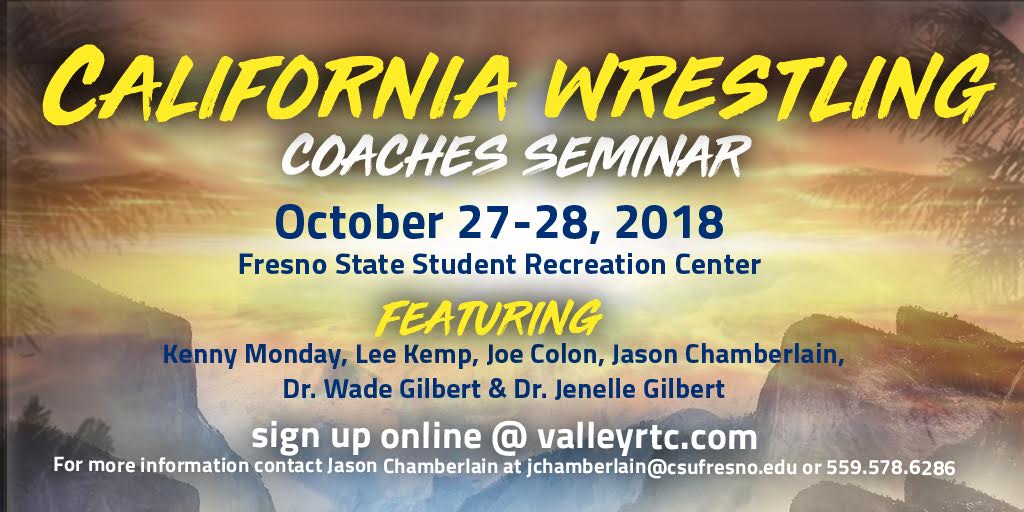 California Wrestling Coaches Seminar

October 27, 2018 - October 28, 2018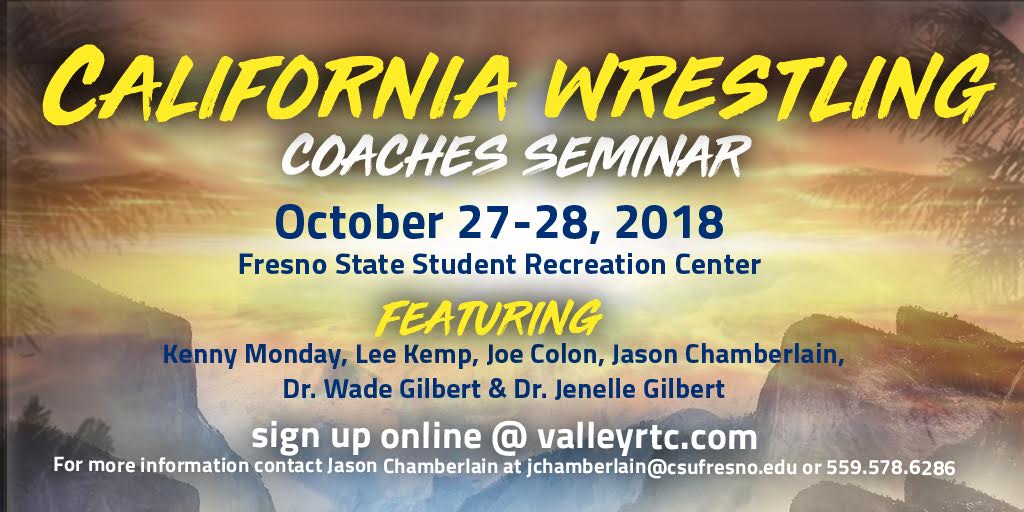 This coaches clinic will feature Olympic Champion Kenny Monday. Three Time World Champion and 3 Time NCAA Champion Lee Kemp. Members of the Fresno State Coaching staff.
The camp will cover multiple areas that are vital to building a wrestling program, including multiple technique sessions, specific training philosophies and strength & conditioning programs. Tips for Fundraising, marketing, and social media will also be included.
Saturday October 27th
8am: Check In (Bagels & Coffee)
9am: Troy Steiner - Welcome & Introductions
9:15-10:15am: Kenny Monday (Olympic Champion, World Champion, NCAA Champion)
10:30-11:00am: Jack Moses (Level Changer - Stats App)
11:15-12:00pm: Heath Eslinger - Fellowship of Christian Athletes
12:15-12:45pm: Lunch
1:00-2:00pm: Lee Kemp (3 x NCAA Champion, 3 x World Champion)
2:15-3:15pm: Joe Colon (2018 US Open Champion, Fresno State Assistant)
3:30pm: FRESNO STATE INTRASQUAD
5pm: Tailgate
7:00pm- Football Homecoming Game Hawaii vs Fresno State (Time TBA)
Sunday October 28th
8-9am: Coffee & Bagels
9-10am: Wade Gilbert (Coaching Better Every Season)
10:15-11:30am:  Kenny Monday
12:00-1:00pm: Lunch
1:15-2:15pm: Jenelle Gilbert (Sports Psychology)
2:30-3:30pm: Jason Chamberlain (2018 US Open Champion, Fresno State Assistant)
3:30-4:00pm: Troy Steiner Q&A
California Wrestling Coaches Seminar
October 27, 2018 - October 28, 2018 | Fresno , California
Sat, October 27, 2018 - Sun, October 28, 2018
5010 N. Woodrow Ave
Fresno
,
California
93740